NEW…PEGUS REVIVAL MASH
A HYDRATING MASH TO COMPLEMENT THE RATION
Pegus Revival Mash is designed to be a versatile feed for horses during times of stress where hydration is essential and more beneficial than the old fashion bran mash. Pegus Revival Mash is a very palatable mash that entices horses to consume and rehydrate fluids, and an easy means of medicating if necessary. Formulated using key "super-fibres technology" allowing for a quick soaking time for making a mash for consumption. Additionally,
Pegus Revival Mash contains Pegus Xtrolyte Powder to replenish losses after heavy workouts, vitamin E as a source of antioxidants for immune support and muscle recovery, efficiency and overall health and wellness.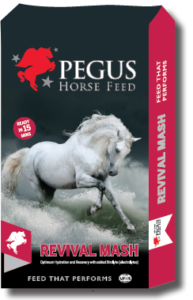 When to use Pegus Revival Mash
1 During Travelling
2 After hard exercise
3 After Mares foaling first feed
3 Once a week digestion support
4 Colic Prone Horses
5 Post Colic
6 Convalescing horses and poor appetite
7 Old seniors with poor teeth
Pegus Revival Mash is a highly palatable supplemental feed designed to be used to make a mash to increase fluid intake, enhance electrolyte balance and support healthy digestive function. Pegus Revival Mash is appropriate for use in mares pre and post foaling, during training, after racing and travel and at any time hydration and electrolyte intake and digestive health is of concern. Or as an Alternative fibre feed 2-3 times a week.
Feeding Instructions
To use Pegus Revival Mash mix approximately
1-part feed to 2 parts warm water.
Feed soon after mixing and at a rate of 3-4 kg per day.
Pegus Revival Mash is fully balanced buy not meant to replace a daily feed regimen, but to serve as a supplemental nutritional replacement support during stressful situations.
Always provide a clean, fresh source of water as well as high quality hay.