Thompsons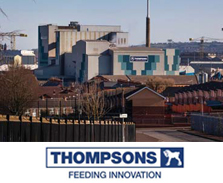 In 1880 John Thompson's fruit and vegetable shop embarked on a journey that now sees Thompsons as the largest multi-species feed mill in Europe. With over 100 years experience feeding the animals of Ireland, Thompsons know what they are doing. From the early days in Donegal Quay to the present location on the York Road Belfast, there have been many ups and downs but one thing still remains the same; Thompsons' ability to adapt. Change is not always welcome but at Thompsons it has been embraced as a way of bringing together different ideas, talents and strengths. Innovation is at the heart of this market-leading feed mill ensuring that it can evolve with an agricultural industry that has had its fair share of changes over more than a century. As 'Pioneers of Better Feeding stuffs' all those years ago, Thompsons are still dedicated to finding innovative ways of ensuring all animals reach their true potential from the inside out.
---
Liffeys Mills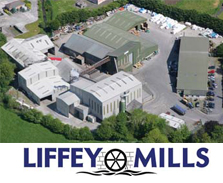 Liffey Mills operate from seven locations, including three animal feed mills, a toasting and flaking plant and have grain handling and drying facilities on five of the sites The origins of the Liffey Mills business can be traced back to the 1930's when it started as a haulage and merchanting operation in Shinrone, Co. Offaly. Liffey Mills was then incorporated in 1982 by the late Richard Liffey when he purchased the Monastery Mill which dates back to 1878 from the Cistercian Order. A tradition that has been developed and nurtured and still treasured today and has developed a branch network across the Midlands and Midwest of Ireland – Nenagh, Athy, Shinrone, Banagher, Ennis and Edenderry with head office in Roscrea.
Liffey Mills Branches

(ROSCREA) Liffey Mills, Bunnow, Roscrea, Co. Tipperary (Head Office) 0505 21477
(SHINRONE) Liffey Mills, Shinrone, Offaly  0505 47112
(BANAGHER) Liffey Mills, The Crank, Banagher, Co. Offaly 057 9151752
(NENAGH) Liffey Mills, Islandbawn, Nenagh, Co. Tipperary 067 31055
(ENNIS) (Liffey Mills, Gort Road, Ballymaley, Ennis, Co. Clare 065 6848450
(ATHY) Liffey Mills, Kildare Road, Athy, Co. Kildare 059 8631814
(EDENDERRY) Liffey Mills, Ballyfore, Edenderry, Co. Offaly 046 9731219
---
Dairygold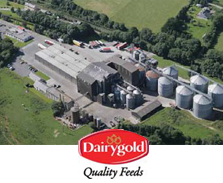 Dairygold Agri is located in Munster, in the heart of Ireland's most green and fertile region. With 100 years of Co-op heritage and dairy processing excellence., the UFAS accredited feed mill at Lombardstown Co. Cork has a throughput of 225,000 tonnes of feed. In meeting the strict quality requirements of the European UFAS standard, the entire milling operation operates to the highest levels of quality, health and safety covering all aspects of animal feed production. These include the sourcing and evaluation of feed ingredients plus the manufacturing, storage and delivery of the feed. These standards are verified by independent scrutiny and audited on a continuous basis.
---
International Partners

Pegus Germany
If you would like more information on how to become  a international partner with Pegus Horse Feed please contact info@pegus.ie