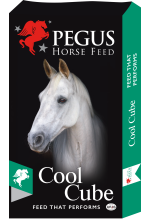 Perfect all round feed, high fibre, low energy feed. Contains lower starch levels than
a mix with double cooked grains for better digestibility and healthy gut function.
Fully balanced with the Pegus Equine pre-mix supplement and protein for excellent
muscle tone and tissue strength during exercise, Cool Cube provides a lower starch
alternative for excitable horses and ponies in competition.