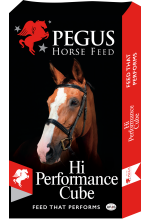 These high energy cubes offer a lower starch alternative to Hi Performance mix. Contains lower starch levels than a mix offering double cooked
grains for better digestibility and healthy gut function. High Performance Concentrate is fully balanced with the Pegus Equine pre-mix
supplement and protein for excellent muscle tone and tissue strength during exercise, with higher levels of antioxidants which are also essential to aid recovery
and reduce tissue damage. Can also be used as a follow on feed plan with yearlings after Pegus Junior as sales prep.