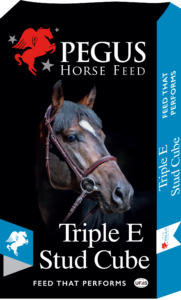 Triple E have been a popular and trusted part of many Irish breeders' feed plan for decades.
This highly digestible, energy, vitamin and mineral-dense cube uses only the best Irish grains
and cooked cereals to provide readily available energy to meet the needs of the broodmare
during periods of gestation and lactation, both critical in the foal developments and broodmare
health. Triple E is laced with essential minerals from Pegus Equine breeder pre-mix for the
very important final 3-4 months of pregnancy where the foal lays down the building blocks
for strong tissue and skeletal foundation for future strength. The energy dense cubes and
bio-available mineral ensures high quality milk yields in lactation when the foal requires the
mother's calorie and mineral-rich milk. Triple E benefits stallions during the covering season
with essential energy levels and higher Vitamin E levels improving fertility and libido.
Suitable for all types of horses and ponies, late gestation mares, early lactation mares,
covering stallions, Yearlings, Sales Yearlings.