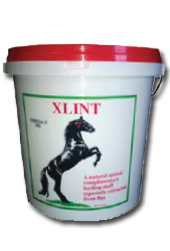 A completely natural animal feed supplement, specially extracted from the finest Irish Flax and carefully processed so that it is rich in Omega-3 Oil, protein, fibre, calcium phosphorous and vitamin E. Xlint
supports the horse's health, condition and appearance by helping their digestive and excretory system,
producing a marked improvement in their coat.
The equine athlete that is provided Xlint can benefit from the difference in inflammatory response. In addition, Xlint has also demonstrated benefits to the cardiovascular system, reproductive performance,
and bone development in numerous research studies in a variety of animal species. The consumption of
Xlint is the only natural way to ensure that essential fatty acids are available for metabolism of the "less-inflammatory" compounds and other metabolites beneficial for the horse's overall health and well-being.
An ever growing body of research is indicating that Omega-3 contains essential fatty acids that are
extremely important in animal diets for maintaining healthy condition and appearance. Xlint is a special
flax extract containing natures richest and safest source of Omeg-3 present to 24% as compared to 2% in fish oil.
BUY NOW
Indications:
Great success in the equine industry has been achieved by using Xlint to bring horses to peak condition
for breeding, showing competing and selling.
Instructions For Use:
Feeding rate: 100 – 200g (1-2 mugs) per day.