Garlic, Honey and Glucose is a highly palatable liquid supplement that combines the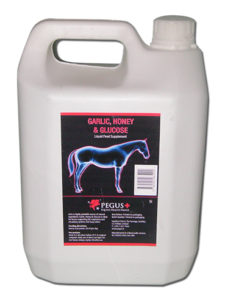 properties of
Garlic, in oil form, with honey and glucose. Honey is a highly palatable source of natural sugar as well as
having antioxidant, antibacterial and anti-inflammatory properties. It is also believed to be of benefit to
coughs and to gastric ulcers. Liquid glucose is the easiest absorbed form of carbohydrate, providing a
palatable base for the garlic oil, as well as providing low levels of available energy.
Garlic has been used since ancient times for its beneficial properties. It is used to support the respiratory
system, encouraging the healthy expulsion of mucus from the lungs. Rich in sulphur, Garlic may also be
of benefit to healthy hoof formation. feeding Garlic is also thought to support blood, and can be
used to support laminitis, arthritis, sweet itch and skin problems. It is known to aid digestion, supporting
production of beneficial bacteria withing the hind gut. Garlic has also been considered to be of benefit
before and after a course of antibiotics, to provide support to the immune system. It is also known
to contain B group vitamins, Vitamin C, Potassium and phosphorous as well as some amino acids.
Garlic is also known to have antioxidant properties and maintain normal fat metabolism. This product
is ideal for horses in all disciplines of work, breed and age and it will help to support the respiratory and
circulatory systems, allowing optimum oxygen to the muscles and vital organs.
BUY NOW
Instructions For Use
Feeding Rate:
Horses: 30ml per horse per day.
Ponies: 30ml per horse per day.