There are some circumstances when mares and foals need more minerals than can be supplied in a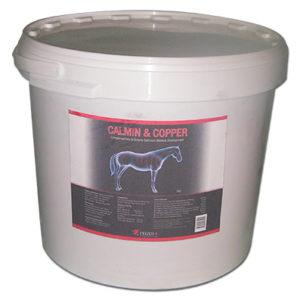 liquid supplement or a concentrate feed. Calmin & Copper is rich in calcium, required for correct growth
and development of the skeleton. There is also the correct ratio of Calcium to phosphorus. Phosphorus
is also a vital component in the development of the skeleton and is vital in growing horses. Calmin &
Copper also contains magnesium, required for Calciumand Phosphorus metabolism. Copper is included
as it is involved in bone and cartilage formation, again important for the growing horse. Calmin & Copper
also contains the vitamins A, B1, B2, D3, and E along with selenium and other trace elements.
This supplement provides most of the calcium and phosphorus needed to ensure optimum skeletal
development. The inclusion of bioplexes improves absorption and ensures the horse receives all
available minerals.
BUY NOW        
Instructions For Us
Feeding rate:
Broodmare: 1 Scoop, Yearling or 2YO: 2/3rd Scoop, Foal: 1/3rd Scoop.
Bulk Mixing: 1.36Kg / 50Kg