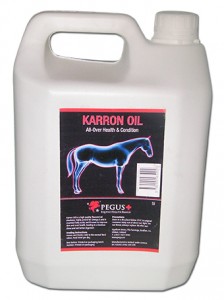 Karron Oil is a highly rich flaxseed emulsion containing high levels of Omega 3 and 6 fatty acids. Omega 3 can be low in horse fed preserved forages and concentrates .Flaxseed oil contains naturally occurring omega 3 and 6 that horses need.
The omegas are well known to improve skin and coat health, leading to a lustrous shine.
They are particularly supportive of the immune system as both are antioxidants , which protect against muscle damage. Omega 6 helps the imume system . Karron Oil aids digestion and is a over conditioner for the horse both inside and out
Instructions for use: Add to the normal feed ration. Feed 50ml per day.